If you're looking for a new Toyota 4Runner, you'll find that there's only one engine available. This engine is a V6 that's capable of delivering 270 horsepower and is the only engine Toyota currently offers.
Toyota once had a V8 4Runner which you can still find on older, used models.
What Years Did The 4Runner Have A V8?
The Toyota 4Runner came with a V8 in the fourth generation, which was in production from 2003 to 2009.
The 2003 and 2004 models came with the 2UZ-FE V8, which put out 235 hp and 320 lb-ft of torque. This engine was designed for Toyota to put in trucks and SUVs. That is why this engine has this amount of displacement, low-rev, with high-torque output. From 2005 onward, VVT-i technology increased the output to 260 hp and 330 lb-ft. 
This engine was shared between the 4Runner and Lexus GX470 from 2002-2009, Lexus LX470 from 1998-2007 as well as some Tundras and Sequoias. It is no coincidence that these are some of the most well-respected and reliable Toyota vehicles with many still on the road with hundreds of thousands of miles.
While the powerplant was effective and overall pretty reliable, it had its drawbacks that were widely noted. Leaks in the manifold and an annoying engine tick were two examples of this. It is also fairly common to need a timing belt replacement around the 80,000 to 90,000 mile mark.
The main drawback on the engine was the fuel consumption, with ever-increasing fuel prices. In 2010, the V8 engine was upgraded to 4.0L V6, to help improve the fuel efficiency slightly.
While the V8 wasn't fuel-efficient, many people in the overlanding community valued the V8 and its reliability over the 4.0L V6. Funny enough now the 4.0L V6 is known to be really reliable even though it is now fairly dated compared to competitors.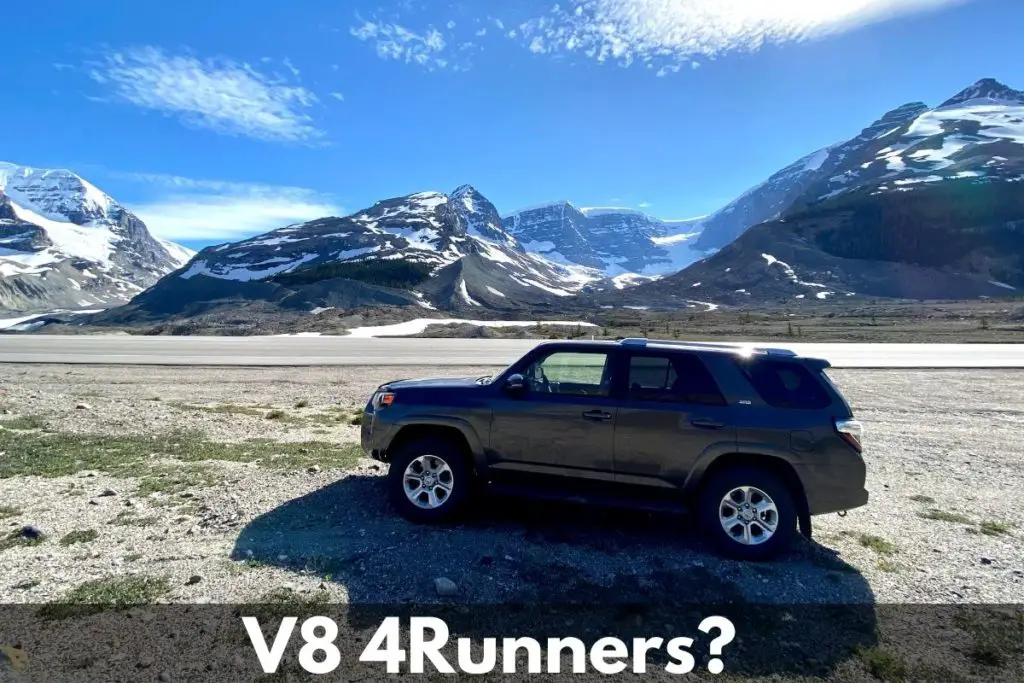 On average, the V8 engine had an EPA estimated 15 mpg on the city and 19 mpg on the highway.
The 5th generation 4Runner produces 270 hp for comparison sake.
The 4th Generation 4Runner entered the market in 2003 and continued through 2009. The 4Runner is known to be a great option for those individuals looking for a vehicle that is utility in nature, that is solid on-road as well as off-road, while not directly competing with the more off-road dedicated Jeep Wranglers.
Currently we are in the 5th Generation of the Toyota 4Runner, with the 6th Generation likely coming in 2023 or 2024.
The funny thing is while the horsepower is similar, the V8 model really shined over the V6 with its towing capability. The V6 (even the current 5th Generation) can tow up to 5,000 pounds, while the 4th Generation V8 version could tow around 7,000 pounds depending on how it was spec'd out.
When the 5th Generation 4Runner debuted, as we indicated earlier, it was available only in a V6 configuration. Let's discuss why in more detail.
Why Did Toyota Move Away From Using the v8 In The 4Runner?
One of the main reasons why Toyota moved away from using the V8 in the 4Runner was for fuel economy reasons. The Federal government in the United States has been putting in stricter fuel efficiency requirements across auto brands. As such Toyota is always evaluating where they can make gains to meet these government requirements.
Toyota alone isn't impacted by these fuel efficiency requirements, it impacts every automaker. I suspect in the near future we will see a hybrid and/or fully electric 4Runner.
When shifting to the V6, Toyota promised that the 4.0L was more powerful and more fuel-efficient.
As fuel emissions standards increased, Toyota had to find a way to decrease emissions on all of its vehicles including the v8 version of the 4Runner, especially during cold starts.
What Engine Replaced The V8 On The Toyota 4Runner?
Toyota, unlike other brands, generally doesn't offer multiple different engine options within the same vehicle line. They offer one solid choice and perfect the use of that engine.
The 4.0L V6 being in use over ten years is no different. It has proven to be pretty reliable with many 4Runners hitting 250,000 plus miles with little issues outside of routine maintenance.
Overall, as Toyota looks into the future they will surely offer a turbocharged 4 cylinder or a hybrid option to meet the needs of consumers and government regulations. While these engines are common in other brands' vehicles and even in some Toyotas, it can be a little concerning to 4Runner fans when a tried and true powerplant is replaced by something that is perceived as less reliable or capable.
Only time will tell if the new engine options are better or not, but one thing is for sure and that is Toyota will continue to ensure the popular 4Runner line-up is a success.
To keep a balance between government regulations and reliability look for Toyota to release a powerplant based on something that is in another vehicle in the Toyota family and slowly modify and tweak it to work flawlessly with the 4Runner over a period of years.
Wrapping Up
So now you likely understand the evolution of the 4Runner's power train over the years and why the V8 is no longer offered and was phased out for the V6 we have today.
The 4Runner is a dependable body on frame SUV that has logged hundreds of thousands of miles with very little required modifications over the years.
This reliability combined with the off-road features have really created a loyal fan base amongst off-road enthusiasts and normal drivers alike.
As we stated earlier Toyota will likely redesign the 4Runner for the 2023 or 2024 model year and with that redesign, replace the 4.0L V6 in the process. If you want to ensure you have a reliable engine in a 4Runner, you may want to consider purchasing before this refresh. 4Runners generally hold their value well so if you really liked the new engine post re-design it would be easy enough to trade in your existing 4Runner for a newer model.
Derrick